Get help with Industrial Product Problem Solving
Many times, industrial applications are specialized and there isn't an easy, off-the-shelf solution — that's where R-Custom Fabric Products shines. We'll work with you to design a solution to solve your problem and craft it out of the highest quality materials to ensure minimal downtime.
Custom Industrial Fabric Solutions
• BIFMA weight test bags • bellows • pads • custom CH Silica stress relief blankets • welding screens
• grinding screens • paint booths • spray screens • booth covers • machine covers • noise curtains • wind screens • flame retardant warehouse dividers

We have a large selection of specialty fabric designed to protect personnel and property from extremes in heat, welding sparks & molten splash. (At right: flame-resistant welding screen panels with platform legs.)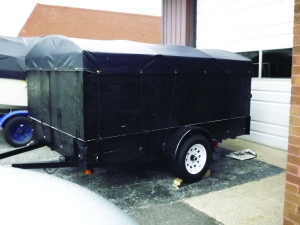 Trucking & Construction Services
We stock tow straps, rubber straps and an assortment of tarps — roofing tear-off tarps, salvage covers & trash tarps. We custom build equipment covers, salvage covers, and truck & trailer material covers.
Fabrication
We fabricate aluminum frames and also provide welding services.
Flags & Flag Poles
Flags and flag pole construction are another specialty service provided by R-Custom Fabric Products.